FIDE Chess.com Online Nations Cup Rosters: Team China
Saturday, 25 Apr 2020 02:42
FIDE Chess.com Online Nations Cup Rosters: Team China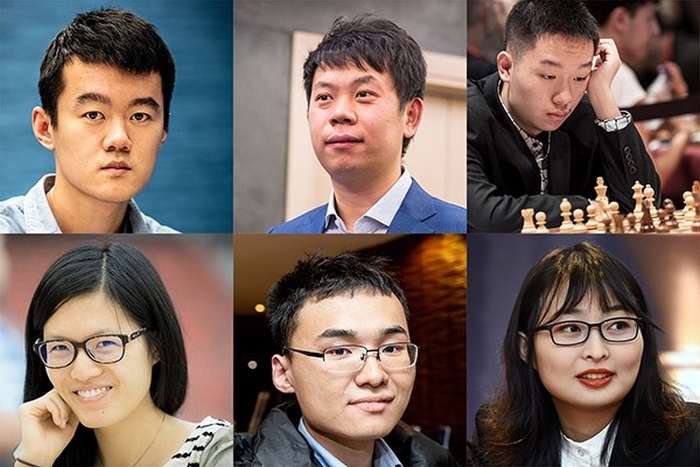 The Chinese team, winner of a historic double gold in the last Chess Olympiad, will be the top-seed at the FIDE Chess.com Online Nations Cup, which will take place May 5-10.
Captain: Ye Jiangchuan
The second Chinese grandmaster Ye Jiangchuan became the first representative of his country to surpass the 2600 rating mark. His record includes participation in numerous Olympiads and Asian Team Championships two FIDE World Cups and the World Championship (2001). In 2000 Ye Jiangchuan became the chief coach of both national teams – the position he has held ever since.
Ding Liren (Std. 2791 Rpd. 2836)
The highest-rated Chinese player in history Ding Liren reached the final of the FIDE World Cup twice but lost on both occasions. Currently ranked 3d in the world, he took part in two Candidates Tournaments. In his stellar year 2019, Ding Liren won Sinquefield Cup after beating the World Champion in a tiebreaker and the Grand Chess Tour final.
Wang Hao (Std. 2763 Rpd. 2750)
In early 2010s Wang Hao overcame the 2750 rating mark, scoring victories against all elite players, including two last World Champions Vishy Anand and Magnus Carlsen. His chess career got a second wind in 2019 – after winning a very prestigious Grand Swiss tournament the Chinese GM qualified for the Candidates Tournament 2020.
Wei Yi (Std. 2732 Rpd. 2752)
The fifth-youngest GM in the history of chess, Wei Yi became the youngest player ever to reach a 2700 rating mark. Considered by many to be one of the most talented players of his generation, the Chinese GM is currently ranked 20th in the world. His chess resume includes the victory in the 8th Danzhou Super-GM tournament (2017) and the final of the FIDE Grand Prix Jerusalem (2019).
Hou Yifan (Std. 2658 Rpd. 2621)
The youngest female player ever to achieve the grandmaster title Hou Yifan is the four-time World Champion. After winning the prestigious Rhodes Scholarship to study at Oxford University she put her career on hold. A temporary return of the #1 of the women's rating strengthened team China before the event.
Yu Yangyi (Std. 2709 Rpd. 2738)
One of the youngest GMs ever, Yu Yangyi was a member of the gold medal-winning Chinese team at the Chess Olympiad (2014) and the World Team Chess Championship (2015). The winner of the first Qatar Open he had a very good run in the FIDE World Cup 2019 in which he reached semifinals. The Chinese GM is currently ranked 33d in the world.
Ju Wenjun (Std. 2560 Rpd. 2610)
The reigning Women World Chess Champion, Ju Wenjun is one of few women to cross a 2600 rating barrier. A member of the gold-winning Chinese team at two Olympiads (2016 and 2018) she has successfully defended her World Champion title twice (2018 and 2020).