Chess community supports charity initiatives
Wednesday, 29 Apr 2020 01:05
Chess community supports charity initiatives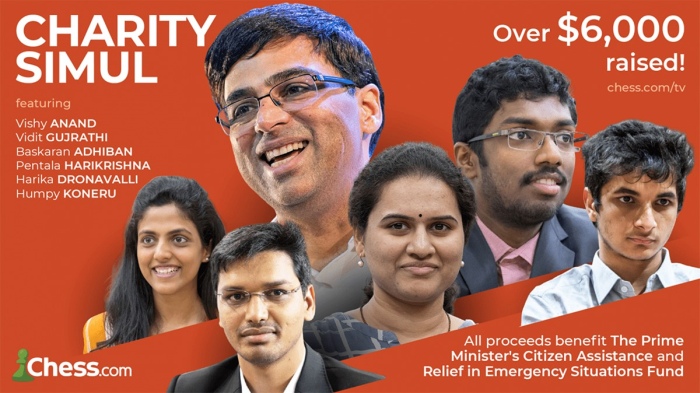 This week FIDE Newsletter latest edition (#004) focused on a very important issue. The coronavirus pandemic goes well beyond a health crisis: the economic consequences are also catastrophic, and many families and health organizations are struggling. We are very proud of the response of the chess community, from chess celebrities to the not-so-famous: a lot of fund-raising initiatives have been launched over the past week.
Viswanathan Anand, stranded in Germany after his return flight to India was canceled, has been especially active in this regard. Along with GMs Pentala Harikrishna, Vidit Gujrathi, Adhiban Baskaran, Humpy Koneru, and Harika Dronavalli, Anand took part in a charity simul held on Chess.com on April 16. "Team India" raised more than $6000 for India's Prime Minister's Citizen Assistance and Relief in Emergency Situations Fund. On Saturday, April 25, Vishy teamed up with Vidit Gujrathi, Nihal Sarin, Tania Sachdev, and the popular YouTuber Antonio Radic, to play against a team of stand-up comedians in an online charity match.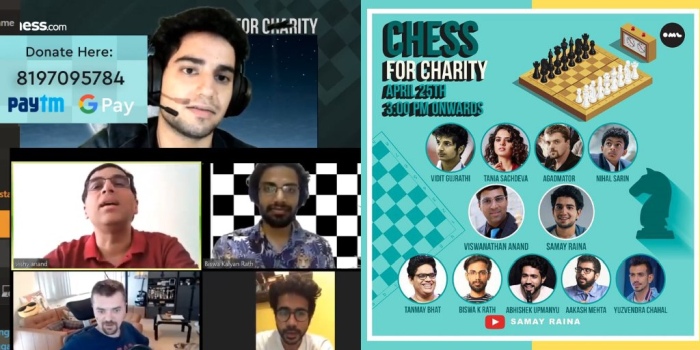 Also in India, the Kerala Chess Association and Chessbase India have put together a very interesting online tournament, to be played on May 2 on Playchess. The Grandmasters Alain Pichot (ARG, 2630), our very own FIDE Vice-President Nigel Short(ENG, 2626), Sunilduth Narayanan (IND, 2618) and Dommaraju Gukesh (IND, 2563) will be the top seeds, with all proceedings going again to the Chief Minister's Distress Relief Fund.
The French Chess Federation has liaised with the Fondation de France, which fights against the coronavirus. A 24 hours chess marathon will be held, starting from May 2 at 15:00, in cooperation with Lichess, Blitzstream, Europe-Echecs, Chess24, Variantes, and Appredre-les-Echecs. The initiative will be supported by the most popular streamers in the country, who will try to mobilize the French-speaking chess community towards making online donations to the "Tous unis contre le virus" campaign run by the Fondation de France. The time control is blitz (5+2) and you can already register through this link to Lichess.org.
As schools remain closed all across the United Kingdom, the charity Chess in Schools and Communities partnered with ChessKid, the world's biggest online children's chess platform, to offer one million free subscriptions to schools. The goal, as described in their press release, is to "make Britain smarter".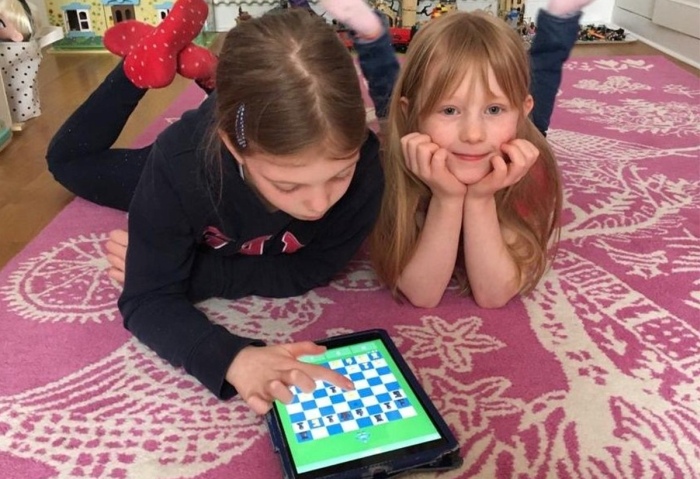 Every primary school in the UK can get involved by applying for up to 1,000 of the one million free ChessKid Gold subscriptions – giving unlimited access to the programme's online lessons. By providing these, the organizations seek to add an extra-curricular dimension to every school's remote teaching programme while children remain at home.
Chess in Schools and Communities (CSC) is a UK charity founded in 2009, whose mission is to improve children's educational outcomes and social development by introducing them to the game of chess. They currently teach in over 300 schools and support 500 more nationwide.