South vs. North Chess Star Online Match ended in a draw
Tuesday, 14 Apr 2020 14:02
South vs. North Chess Star Online Match ended in a draw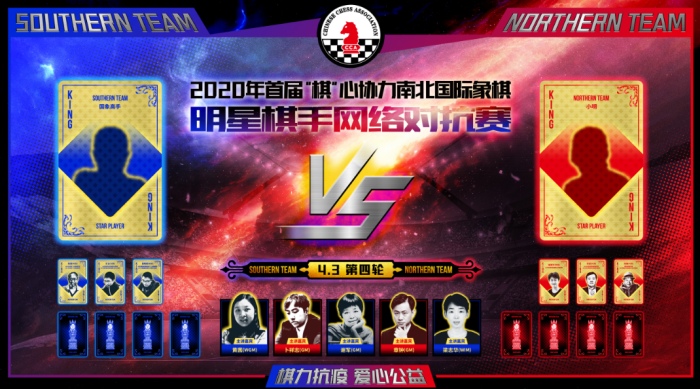 On March 30 – April 10, the Chinese Chess Association organized an online North vs South match that was live on CCTV5, the main sports broadcaster in China. The show reached 2 million views.
Each team consisted of eight players five male and three female members, including such stars as grandmasters Yu Yangyi (2709), Wang Yue (2669), Li Chao (2683) playing for North and GM Wei Yi (2732), former women's world champion Tan Zhongyi (2510) representing for South.
There was a rule regarding the players' age: 2 players in each team had to be born in the 1940s-1950s, 2 players in the 1960s-1970s, 2 players in the 1980s, 2 players in the 1990s and 2 players in the 2000s.
The gimmick of the show was that the players were hidden under nicknames and neither audience nor commentators knew who was playing the game. The coaches of each team chose their players without knowing who the opponent would be.
The Chinese chess community called this tournament a mystery TV series, as in each "episode"(round) spectators and commentators could guess the real identities of the players by their silhouette photos. The players were revealed after the games were over and proceeded to a flash interview where they shared their emotions and told stories from their chess careers.
The match ended in a draw, 4:4.