Opening Ceremony of the Fide Grand Prix Series 2019 in Riga
| | |
| --- | --- |
| Opening Ceremony of the FIDE Grand Prix Series 2019 in Riga | |
Thursday, 11 July 2019 22:27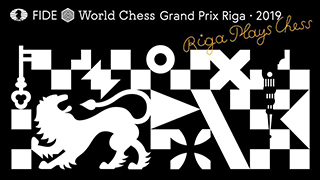 The official opening ceremony launched the second leg of the FIDE Grand Prix Series 2019 in Riga. Many guests and chess fans attended it at the House of Blackheads in Riga
The Opening Ceremony of the second leg of the FIDE Grand Prix Series 2019 organized by World Chess took place in the House of Blackheads in the evening of July 11. Many celebrities and journalists attended the Gala Event which unveiled the second tournament of the World Chess Championship cycle 2019-2020. The Grand Prix leg in Riga will be held at the Latvian National Library from July 12 till 24.
Business People, socialites, and journalists went to a glittering reception, hosted by TV-host, actress and model Dagmara Legante-Celmina and TV-star and model Matins Kapzems. They introduced all 16 participants of the tournament.
FIDE President Arkady Dvorkovich, CEO of World Chess Ilya Merenzon, as well as General Manager at Kaspersky in Baltics Andis Šteinmanis gave speeches during the official part of the ceremony. Chief Arbiter Takis Nikolopoulos then proceeded to the drawing of lots. Players with the highest ratings — Anish Giri (NED), Maxime Vachier-Lagrave (FRA), Alexander Grischuk (RUS) and Shakhryiar Mamedyarov (AZE) — were assigned starting numbers 1, 16, 9 and 8 respectively. The draw of the remaining numbers and of the colours was made in front of the audience.
Round 1 pairings:
Sergey Karjakin (2748, Russia) — Anish Giri (2779, Netherlands)
Wesley So (2763, USA) — Pentala Harikrishna (2734, India)
Peter Svidler (2737, Russia) — Jan-Krzysztof Duda (2729, Poland)
Shakhriyar Mamedyarov (2765, Azerbaijan) — Daniil Dubov (2700, Russia)
Nikita Vitiugov (2727, Russia) — Alexander Grischuk (2766, Russia)
Levon Aronian (2756, Armenia) — Yu Yangyi (2736, China)
Hikaru Nakamura (2754, USA) — Veselin Topalov (2740, Bulgaria)
Maxime Vachier-Lagrave (2775, France) — David Navara (2734, Czech Republic)
The official VIP partner Beluga supported the event. Special Beluga Noble based cocktails were designed for the Opening Ceremony. Alessandro Venturi, the winner of Beluga Signature bartender program 2018, reflected in cocktails the main points of a chess game: opening, middle game, and endgame («Début», «Mittelspiel», «Endspiel»).
From July 12 to July 24, 2019, the best 16 players will fight for the chance to dethrone the current world champion Magnus Carlsen.
Photos by Niki Riga: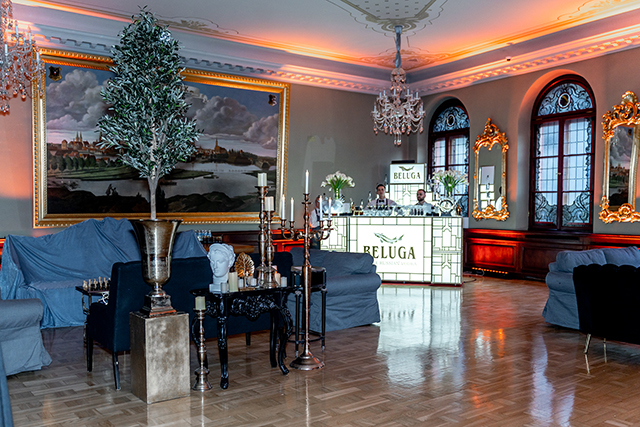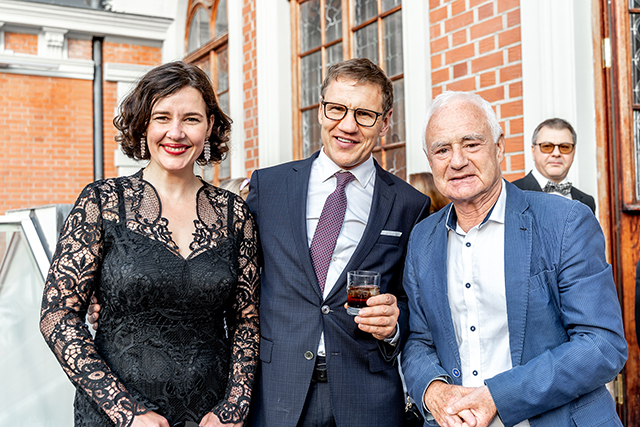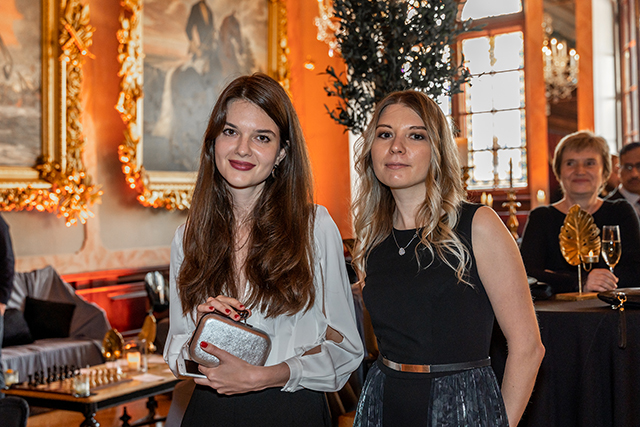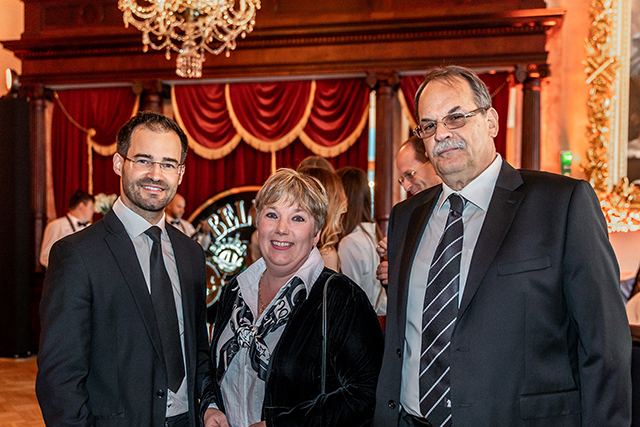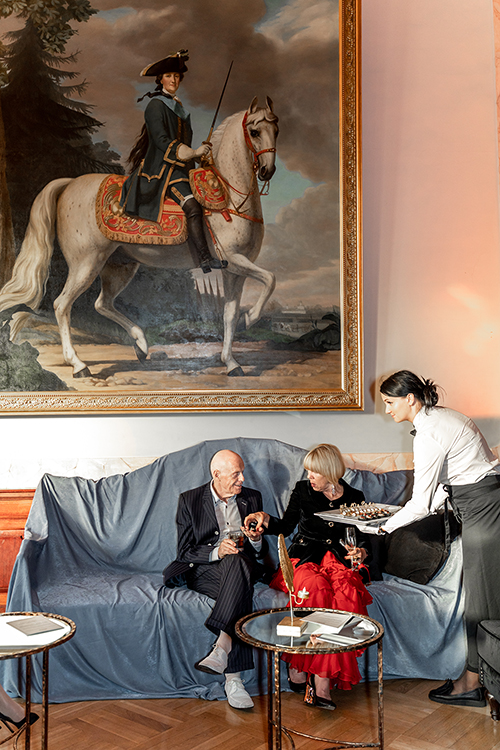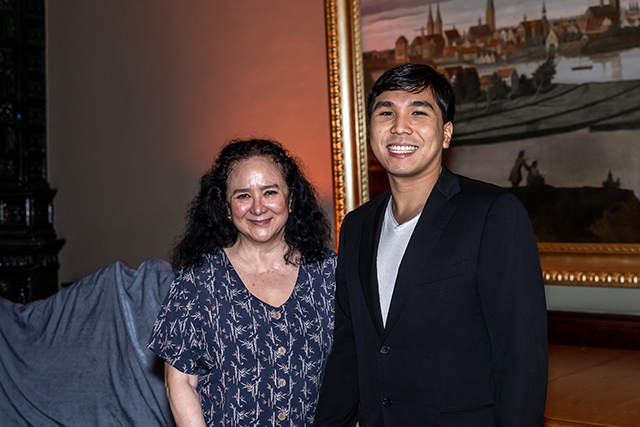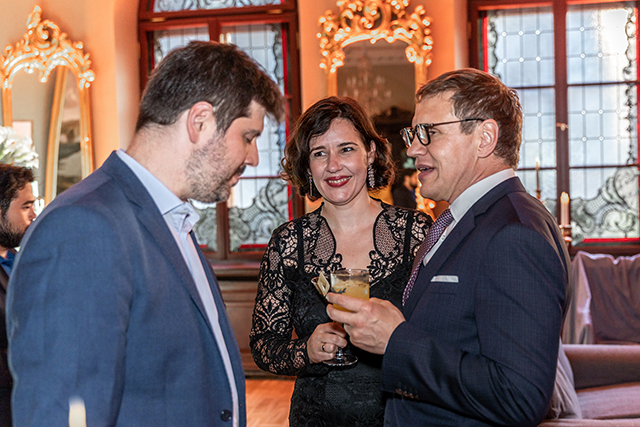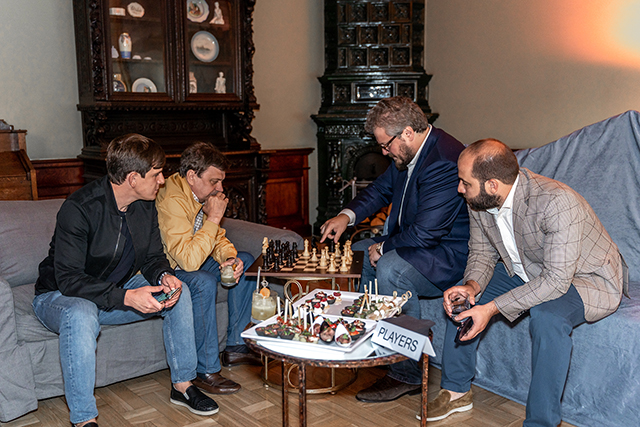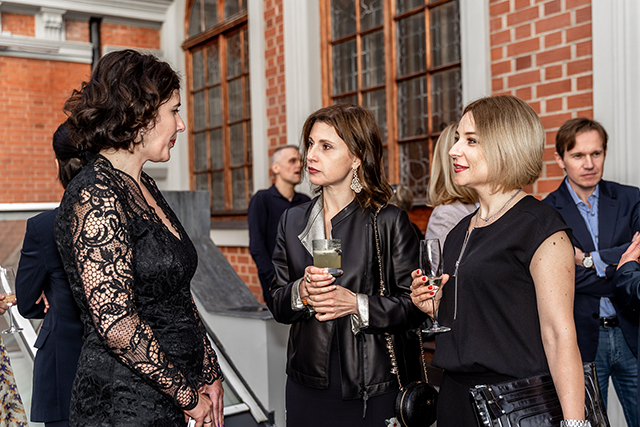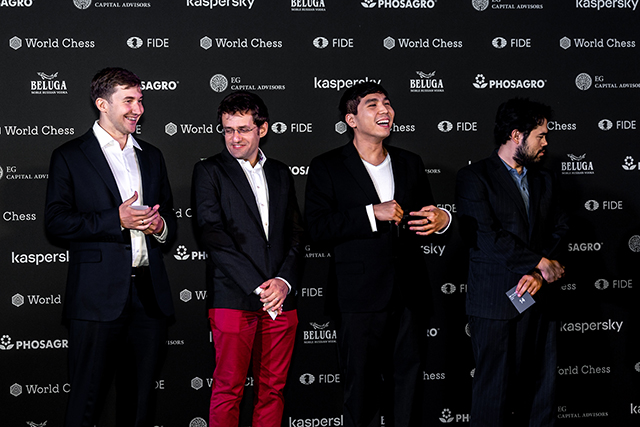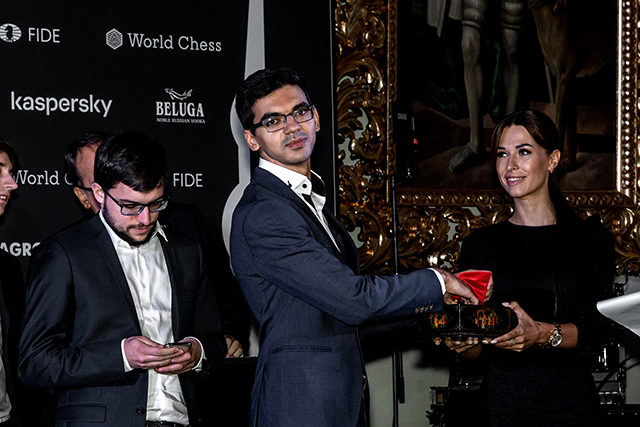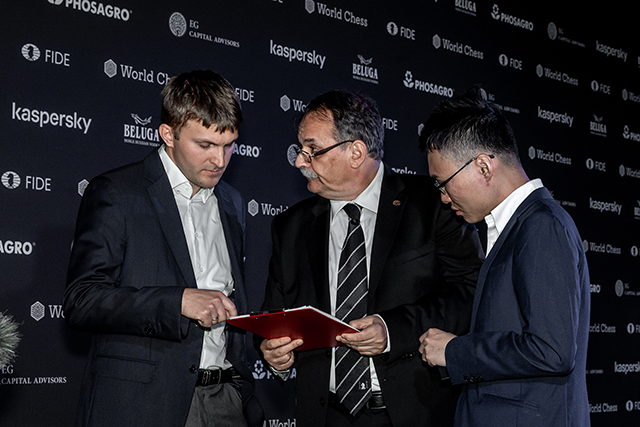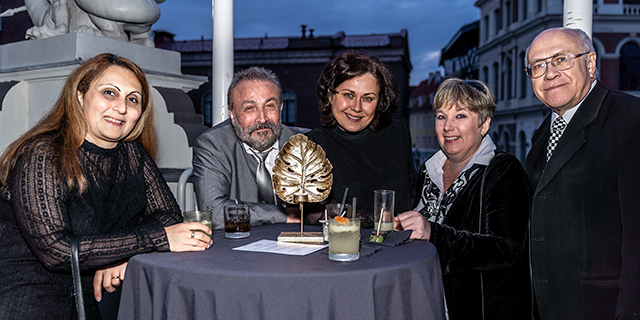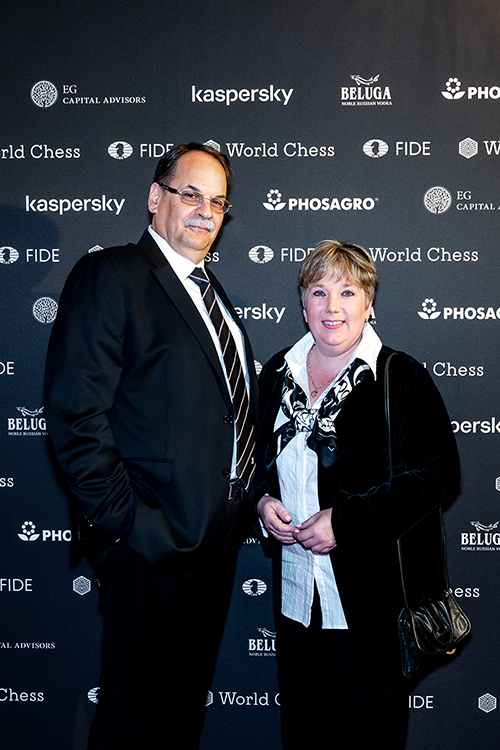 Leading partners supporting the FIDE World Chess Grand Prix Series 2019 include:
PhosAgro as the Official Strategic Partner;
EG Capital Partners as the Official Partner;
Kaspersky as the Official Cybersecurity Partner.
For further questions, please contact:  press@fide.com.
Information for the press: https://mediakit2018.worldchess.com
Official website: https://worldchess.com/news/1349
Official Photos shared via Dropbox.
Schedule:
July 12-13 – Round 1, July 14 – Tie-break
July 15-16 – Round 2, July 17 – Tie-break
July 18-19 – Semi-final, July 20 – Tie-break
July 22-23 – Final, July 24 – Tie-break.
July 21 is a rest day.
The games start at 3:00 pm. The games will be broadcast live at www.worldchess.com.
Leading partners supporting the FIDE Grand Prix Riga 2019 include:
EG Capital Advisors as the Official Partner
PhosAgro as the Official Strategic Partner
Kaspersky as the Official Cybersecurity Partner
World Chess as the organizer
Information for the press: https://worldchess.com/news/2189
Official website https://worldchess.com/news/2089
About FIDE
The International Chess Federation (FIDE), is recognized by its members and the International Olympic Committee as the international federation in the domain of chess, the supreme body responsible for the sport of chess and its Championships. FIDE has the sole rights to organize the World Chess Championships and the Chess Olympiads. www.fide.com
Contact:  press@fide.com
About World Chess
World Chess is a London-based media company. It's a commercial partner of the International Chess Federation (FIDE), and an official broadcaster for FIDE events. World Chess organized the World Championship Matches in Russia, USA, and the UK. It revolutionized chess by signing the biggest media partnerships in the history of chess. World Chess is also developing Armageddon, the chess league designed for television. It operates worldchess.com.
Contact:  media@worldchess.com
About PhosAgro
PhosAgro is one of the world's leading vertically integrated phosphate-based fertilizer producers in terms of production volumes of phosphate-based fertilizers and high-grade phosphate rock with a P2O5 content of 39% and higher. The Company is the largest phosphate-based fertilizer producer in Europe (by total combined capacity for DAP/MAP/NP/NPK/NPS), the largest producer of high-grade phosphate rock with a P2O5 content of 39%, a top-three producer of MAP/DAP globally, one of the leading producers of feed phosphates (MCP) in Europe, and the only producer in Russia, and Russia's only producer of nepheline concentrate (according to the RAFP).
PhosAgro's main products include phosphate rock, 39 grades of fertilizers, feed phosphates, ammonia, and sodium tripolyphosphate, which are used by customers in 100 countries spanning all of the world's inhabited continents. The Company's priority markets outside of Russia and the CIS are Latin America, Europe and Asia. PhosAgro's shares are traded on the Moscow Exchange, and Global Depositary Receipts (GDRs) for shares trade on the London Stock Exchange (under the ticker PHOR). Since 1 June 2016, the Company's GDRs have been included in the MSCI Russia and MSCI Emerging Markets indexes
About EG Capital Advisors
EG Capital Advisors is a UK-headquartered asset management company which offers strategies across multiple asset classes. Specialist areas of focus include emerging markets high yield debt, pre-IPO private equity and biotec public equity. www.egcapitaladvisors.com.
About Kaspersky
Kaspersky is a global cybersecurity company, which has been operating in the market for over 21 years. Kaspersky's deep threat intelligence and security expertise is constantly transforming into next generation security solutions and services to protect businesses, critical infrastructure, governments and consumers around the globe. The company's comprehensive security portfolio includes leading endpoint protection and a number of specialized security solutions and services to fight sophisticated and evolving digital threats. Over 400 million users are protected by Kaspersky technologies and we help 270,000 corporate clients protect what matters most to them. Learn more at www.kaspersky.com.