Goryachkinawinsagain,shows2804performanceinKazan
| | |
| --- | --- |
| Goryachkina wins again, shows 2804 performance in Kazan | |
Monday, 10 June 2019 19:22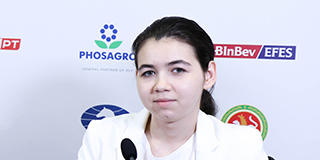 In the 9th round of the Women's Candidates tournament in Kazan, the leader Aleksandra Goryachkina won yet one more game, this time against Valentina Gunina. She shows an outstanding performance of 2804 and leads 2,5 points ahead of the field. She is also the only player who has not lost any game so far.
The Muzychuk sisters keep on showing "synchronized swimming" in the tournament – both of them won in the 9th round. Mariya Muzychuk was stronger in the derby between two former Women's World Champions, while Anna Muzychukdefeated Nana Dzagnidze. Kateryna Lagno held her game into a draw against Alexandra Kosteniuk.
After 9 rounds Goryachkina leads with 7,5 points, Kateryna Lagno is in second place with 5 points, Mariya and Anna Muzychuk share third place with 4,5 points. Nana Dzagnidze is in 5th place with 4 points. Valentina Gunina, Alexandra Kosteniuk, and Tan Zhongyi have 3,5.
Round 9 results:
Alexandra Kosteniuk — Kateryna Lagno | ½ — ½
Valentina Gunina  — Aleksandra Goryachkina | 0 — 1
Mariya Muzychuk — Tan Zhongyi | 1 — 0
Nana Dzagnidze — Anna Muzychuk | 0 — 1
Valentina Gunina tried to surprise the leader Aleksandra Goryachkina with a rare line in the Caro-Kan, famously used by Bobby Fischer. Goryachkina, however, was satisfied with exchanges and a low-risk play. Gunina lashed out with 15.b4, missing the long-range transfer of the black Queen from a5 to h4. This annoying check forced Valentina to concede the castling rights and to fall under the attack of the Black pieces. She tried everything on her hands to complicate matters and avoid the defeat, but the extra piece eventually decided the game for Black.
The game between Mariya Muzychuk and Tan Zhongyi started as a quiet Ruy Lopez, but Black's passive Knight retreat to b8 allowed Muzychuk to obtain a better position -which soon turned into a strong attack. The temporary exchange sacrifice and a deep cut by the pawn on g6 decided the fate of the game.
Nana Dzagnidze tried an unusual line of the English opening against Anna Muzychuk. It looked quite good for White until Dzagnidze allowed her center to collapse. She lost track of the game and even blundered an exchange. It took around 40 moves for Muzychuk, but she finally converted the game into a full point.
The sharpest opening was seen in the game between Russian players Alexandra Kosteniuk and Kateryna Lagno. Black sacrificed a pawn and then, surprisingly, castled long. However, Alexandra did not pursue an attack but opted for a Queens exchange to calm the pace and transfer the game into the ending with an extra pawn. Kosteniuk's plan was based on creating a passed pawn on the queenside. Lagno, on the other hand, attempted to maintain an active counterplay with her Rooks and Bishop. It seems Kosteniuk missed a good chance to seize an advantage on several occasions, but to her credit, the position was very complicated with many tactical possibilities for Black. With a stubborn defense, Katerina Lagno was able to hold a draw.
The leader of the tournament Aleksandra Goryachkina will face her nearest rival Katerina Lagno in the 10th round. Despite 2,5 points difference, Katerina Lagno said she still believes in miracles and will keep on fighting.
Tuesday is a rest day. Wednesday, June 12th, at 15:00 local time, the tenth round will be played with the following pairings:
Alexandra Kosteniuk — Valentina Gunina
Kateryna Lagno — Aleksandra Goryachkina
Anna Muzychuk — Tan Zhongyi
Mariya Muzychuk — Nana Dzagnidze
Report by Anastasiya Karlovich
Photos: Eteri Kublashvili & Anastasiya Karlovich